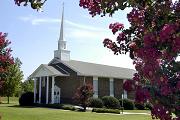 Welcome
Whether you are looking for a home church or just visiting, Reedy Creek Baptist Church is a wonderful place to worship the Lord. We are an active church that serves Cary, Apex, Morrisville, Raleigh and surrounding areas of Wake County, North Carolina. We have services and programs for everyone. Please join us for good worship and fellowship. Our weekly worship service is held at 11:00 AM Sunday. We look forward to seeing you.
Daily Bible Verse
"No one can serve two masters, for either he will hate the one and love the other, or he will be devoted to the one and despise the other. You cannot serve God and money."
News & Announcements
Pastor's Reflections Available Online
Our monthly Pastor's Reflections article is available for online viewing. You will find the link on the Library/Archive page. The article is in PDF format and requires Adobe® Reader which can be downloaded from the Library/Archive page.
Deacon Board Meeting
Thu Apr 24 @ 6:30 PM
The members of the Deacon Board will meet Thursday at 6:30 PM at Longhorn Steakhouse at Brier Creek shopping center in Raleigh.
We will meet for lunch at a location yet to be determined. See Viki Johnson for details. All senior citizens are invited.
Quarterly Conference
Sun Apr 27 @ ~12:00 PM
Our quarterly conference will be held immediately following the worship service. All church members are asked to participate.