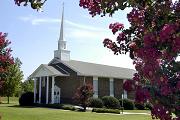 Welcome
Whether you are looking for a home church or just visiting, Reedy Creek Baptist Church is a wonderful place to worship the Lord. We are an active church that serves Cary, Apex, Morrisville, Raleigh and surrounding areas of Wake County, North Carolina. We have services and programs for everyone. Please join us for good worship and fellowship. Our weekly worship service is held at 11:00 AM Sunday. We look forward to seeing you.
Daily Bible Verse
"Worthy are you, our Lord and God, to receive glory and honor and power, for you created all things, and by your will they existed and were created."
News & Announcements
WMU
Meeting
Tue Feb 20 @ 7:00 PM
This month's WMU meeting will be hosted by a yet to be determined member of WMU. All women of the church are invited to attend.
Deacon Board Meeting
Thu Feb 22 @ 7:00 PM
The members of the Deacon Board will meet Thursday at 7:00 PM at the church.
We will meet for lunch at a location yet to be determined. See Viki Johnson for details. All senior citizens are invited.