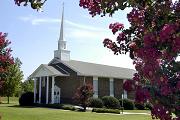 Welcome
Whether you are looking for a home church or just visiting, Reedy Creek Baptist Church is a wonderful place to worship the Lord. We are an active church that serves Cary, Apex, Morrisville, Raleigh and surrounding areas of Wake County, North Carolina. We have services and programs for everyone. Please join us for good worship and fellowship. Our weekly worship service is held at 11:00 AM Sunday. We look forward to seeing you.
Daily Bible Verse
Then Peter came up and said to him, "Lord, how often will my brother sin against me, and I forgive him? As many as seven times?" Jesus said to him, "I do not say to you seven times, but seventy times seven."
News & Announcements
WMU
Meeting
Tue Jan 17 @ 7:00 PM
This month's WMU meeting will be hosted by a yet to be determined member of WMU. All women of the church are invited to attend.
Quarterly Conference
Sun Jan 22 @ ~12:00 PM
Our quarterly conference will be held immediately following the worship service. All church members are asked to participate.
Visit Our Library
Enjoy a good book or movie from our church Library. Just sign them out, and return them within a week. There is a lot of good material to choose from!!