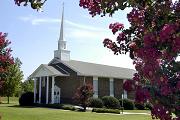 Welcome
Whether you are looking for a home church or just visiting, Reedy Creek Baptist Church is a wonderful place to worship the Lord. We are an active church that serves Cary, Apex, Morrisville, Raleigh and surrounding areas of Wake County, North Carolina. We have services and programs for everyone. Please join us for good worship and fellowship. Our weekly worship service is held at 11:00 AM Sunday. We look forward to seeing you.
Daily Bible Verse
Know therefore that the LORD your God is God, the faithful God who keeps covenant and steadfast love with those who love him and keep his commandments, to a thousand generations....
News & Announcements
Deacon Board Meeting
Thu Oct 23 @ 7:00 PM
The members of the Deacon Board will meet Thursday at 7:00 PM at the church.
We will meet for lunch at a location yet to be determined. See Viki Johnson for details. All senior citizens are invited.
Shoe boxes, to be filled with gifts for less fortunate children, can be picked up Sunday. The boxes should be filled with items such as toys, school supplies, hygiene items, etc. The boxes should be designated for a girl or boy, as you choose, in one of three age categories; 2 - 4 yrs., 5 - 9 yrs., or 10 - 14 yrs. Please contact Kelly Ashworth for more information. The boxes will need to be returned to the church in early November so they may be taken to a drop-off center for distribution.
Quarterly Conference
Sun Oct 26 @ ~12:00 PM
Our quarterly conference will be held immediately following the worship service. All church members are asked to participate.