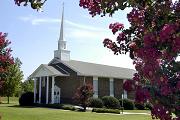 Welcome
Whether you are looking for a home church or just visiting, Reedy Creek Baptist Church is a wonderful place to worship the Lord. We are an active church that serves Cary, Apex, Morrisville, Raleigh and surrounding areas of Wake County, North Carolina. We have services and programs for everyone. Please join us for good worship and fellowship. Our weekly worship service is held at 11:00 AM Sunday. We look forward to seeing you.
Daily Bible Verse
Heaven and earth will pass away, but my words will not pass away.
News & Announcements
Annual Nominations
It's that time of year again! The nominating committee will be convening to fill the positions for the coming year. It's important that we all do our part to keep the church running smoothly. We all have our gifts/talents that will benefit the church. If you would like to find out what positions are available please contact Randy Murphy. If you are apprehensive about volunteering you might want to check out the Pastor's Reflection article from August 2004.
Visit Our Library
Enjoy a good book or movie from our church Library. Just sign them out, and return them within a week. There is a lot of good material to choose from!!
Help Stock Our Food Pantry
Please help stock our food pantry by donating some non perishable foods. "For I was hungry, and you gave Me something to eat; I was thirsty, and you gave Me drink; I was a stranger, and you invited Me in; I was naked, and you clothed Me; I was sick, and you visited Me; I was in prison, and you came to Me." (Matthew 25:35-36)